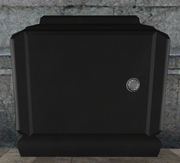 The vault is the core part of the bank, all the money that banking customers put into registers will get into the Vault as soon the Banker transports it to the Vault. The Vault should always be protected by high secure bases.
Ad blocker interference detected!
Wikia is a free-to-use site that makes money from advertising. We have a modified experience for viewers using ad blockers

Wikia is not accessible if you've made further modifications. Remove the custom ad blocker rule(s) and the page will load as expected.