Scythe

Special Event

Class:

Melee

Base Level:

1

Base Damage:

25

Clip Size:

Unlimited

Source:

Halloween Event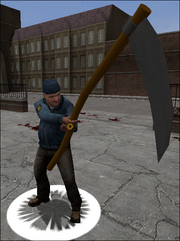 The Scythe is a special event item that was available in the GangWars
Halloween 2010
event.
It does more damage than most low level items (up to 20) and has a secondary attack which can be used to launch enemies or friends high up in the air.
This item was made by Phantom and obtainable by collecting 10 Pumpkins. Like the fists , the Scythe can also attack through fences, making them usefull base defence damage against low leveled players. The limited version of the Scythe is the Reaper Scythe.
Ad blocker interference detected!
Wikia is a free-to-use site that makes money from advertising. We have a modified experience for viewers using ad blockers

Wikia is not accessible if you've made further modifications. Remove the custom ad blocker rule(s) and the page will load as expected.