Ice Laser

Limited

Class:

Pistol

Ammunition:

None

Base Level:

1

Base Damage:

2

Clip Size:

Infinite

Source:
The Ice laser is a special rifle with infinite ammo. It deals miniscule amounts of damage, but 39/100 bullets that make contact will freeze the target. The "frozen" effect lasts from 3 to 5 seconds.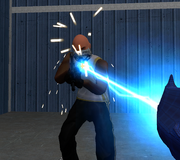 Ad blocker interference detected!
Wikia is a free-to-use site that makes money from advertising. We have a modified experience for viewers using ad blockers

Wikia is not accessible if you've made further modifications. Remove the custom ad blocker rule(s) and the page will load as expected.