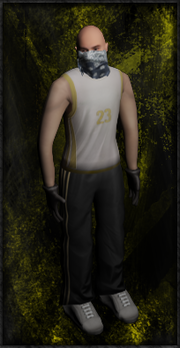 The Gangland Armor is the first real armor in Gangwars, you need to be level 10-20 to equip it. This armor set consists of a Bandana, Sports Gloves,Basketball Shirt, Striped Trackies and Jordans. This is also known as the best armor you can get in the game due to it being cheap, durable, and long lasting. Like any armor you can put 8 upgrades into each chest and legging so why bother get any other armor when you can just mash upgrades in like a beast? Simple keep this armor sell your other crap.
Ad blocker interference detected!
Wikia is a free-to-use site that makes money from advertising. We have a modified experience for viewers using ad blockers

Wikia is not accessible if you've made further modifications. Remove the custom ad blocker rule(s) and the page will load as expected.