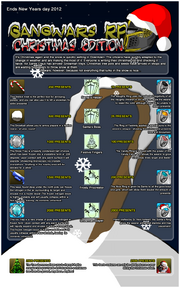 The GangWars Christmas event of 2011 was a special in-game event where players were able to collect presents to purchase unique in-game rewards.
Presents were obtained from building Snowmen , destroying Evil Snowmen , and growing Christmas Trees . By default, players obtain a single present for accomplishing any one of these tasks, but may be increased by using special items that were able to be purchased from the event, such as the Ring of Festivity , the Nice Ring , and the Candy Ring from Santa , as well as the Christmas! upgrade from the Credit Shop .
Ad blocker interference detected!
Wikia is a free-to-use site that makes money from advertising. We have a modified experience for viewers using ad blockers

Wikia is not accessible if you've made further modifications. Remove the custom ad blocker rule(s) and the page will load as expected.